I currently teach courses on intermediate and advanced Spanish language, early modern and modern Spanish literature and culture, and Colonial Latin American literature and culture.
In my teaching I emphasize communicative, collaborative and process-based learning. My courses are designed to create inclusive and empowering environments in which students are encouraged to explore, cultivate, question and share self-reflective and critical perspectives on the world around them while obtaining specific tools they can apply to their academic, professional and personal lives. My courses in Spanish in particular are oriented towards facilitating student acquisition of the linguistic proficiency and cultural competency required to successfully navigate an increasingly interconnected, multilingual and multicultural world.
I am especially interested in introducing students to interdisciplinary views and practices, and my courses incorporate materials from across the humanities (literature, history, philosophy) and the social sciences (sociology, anthropology), along with enabling students to engage with various media (textual, visual) using methods ranging from close reading to digital analysis.
I have recently been awarded three consecutive Swarthmore College Digital Humanities Course Development Grants (2016-2017, 2017-2018, 2019-2020) in recognition of my efforts to develop and incorporate digital humanities projects in my literature and culture courses. Here are a few examples of the work completed by my students in recent semesters:
1. A digital exhibit of human monsters and monstrosity: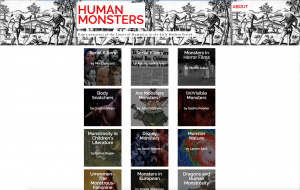 2. A digital timeline from my survey of Spanish literature:
3. Screenshots of digital projects by students in various courses:
[Documentation for these project under Creative Commons license can be found here.]
Digital presentation of course extension study trip in Spain (Summer 2018):
Digital StoryMap of Colonial Latin American literature and culture: